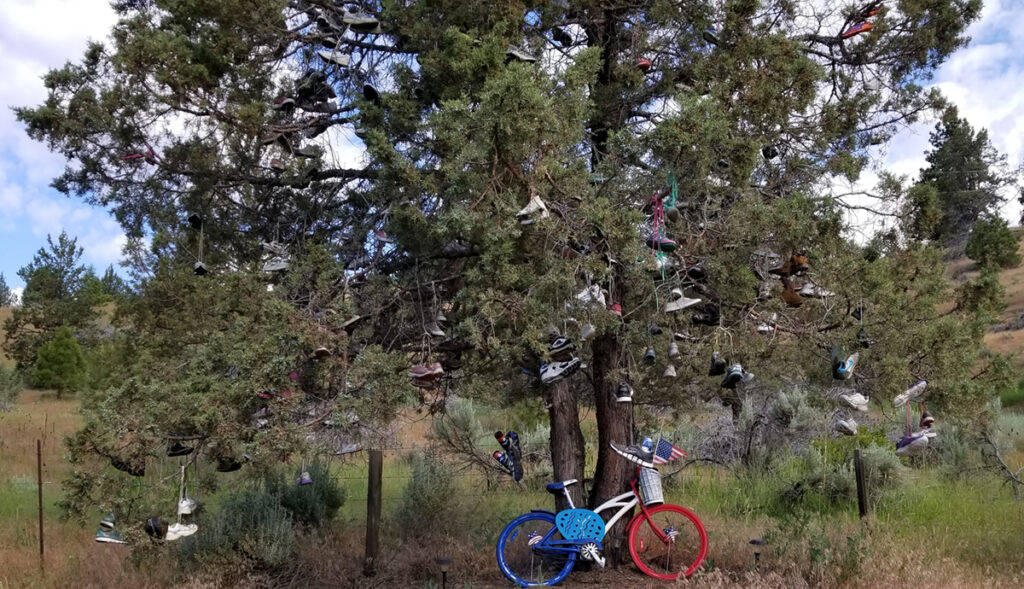 I was excited to experience the Kahler Basin. I had been looking into it from the rim all week and studying it on a map, but none of this reflected the descent from my perch through it to the John Day river.
It could have been that the morning was silky. Sometimes air can be perfect. Each breath inside me was life from rain. Each breath out was part of an energy far greater than me.
Little farms and ranches spread subtly around the diversity of a landscape in gradual transition. Pine forest falling away to low desert in 10 verdant miles as a crow flies. It was late June. By August the weather will resemble Phoenix with daily highs well over 100 degrees. For today the expected high was 80 in Spray.
Noodling around hoodoos, fluvial streams and ridges, the road is a cyclist's dream. It hugs the ground high in the drainage for the first six miles before a choice appears. Follow it down to Spray or diverge onto Winlock road and continue on to the hamlet of Winlock descending to Service Creek. I chose the Winlock route–a longer route with more scouting to see if the prospect of returning to my camp from Fossil would have been reasonable through Winlock. Not on a road bike. From Winlock to road 19 is rough gravel.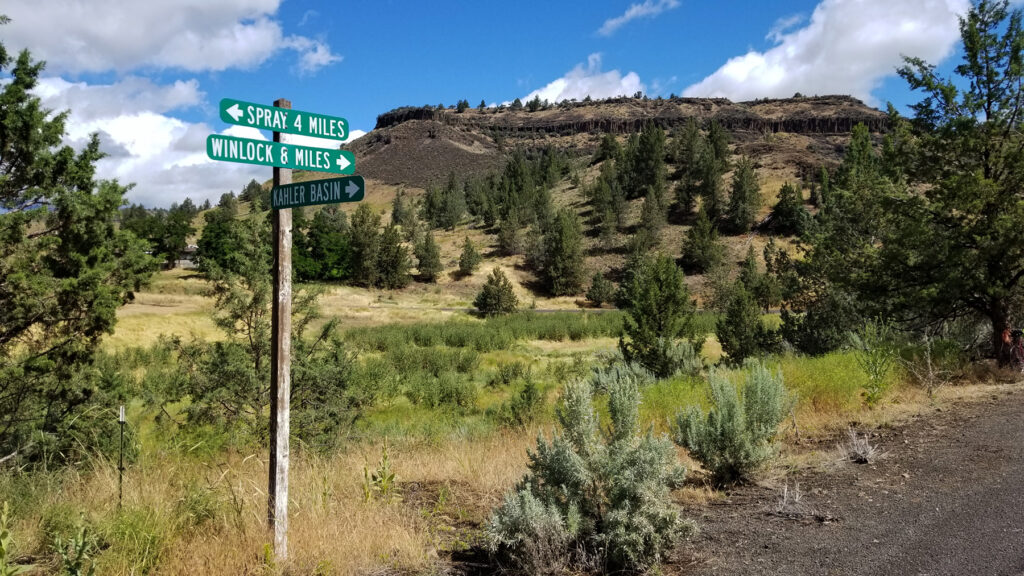 Winlock, Winlock, Winlock. http://pnwphotoblog.com/ghost-town-of-winlock-oregon/
I found a parcel to dream about. Some land for sale with tremendous views. Part of the trip was a larger scouting goal for the Homestead Project.
Since I moved to Oregon I have wanted to build an off-grid refuge. The scope of that idea has changed over the years. When I was 20 I selfishly wanted to build a self-sufficient homestead somewhere in Oregon. When I lived in Eugene I was excited about the Coast Range around Lorane Highway. Madrones, oaks and douglas-fir with fluffy little pastures. After UO archaeology field school in 1993 (Fort Rock) that location shifted to the desert. Still not sure exactly where.
Somewhere out here?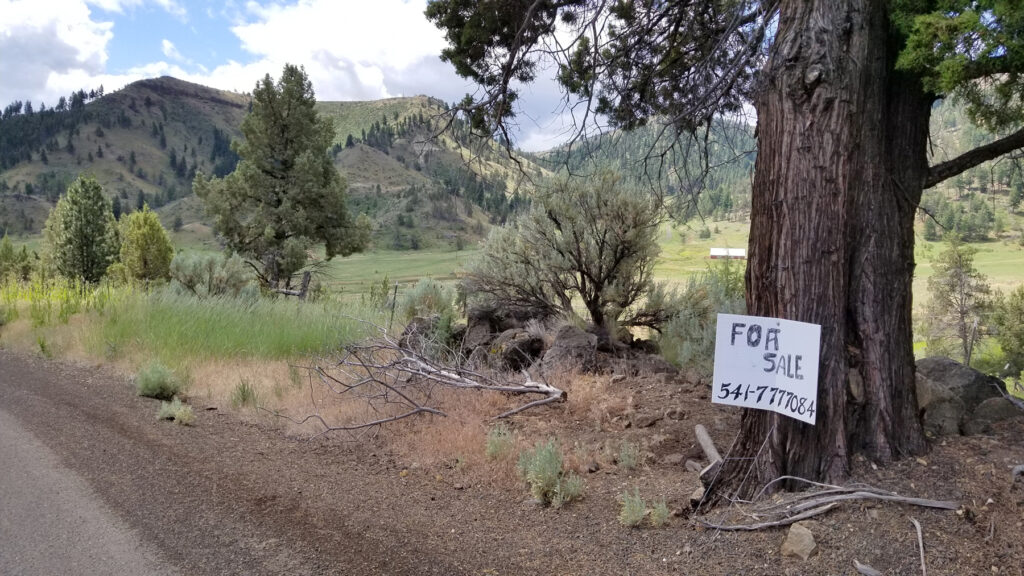 As my desire to own things has subsided with age and wisdom, my goals for such a project have evolved. I no longer want this space for myself. I want this space to share and adapt. I want to build a place for people to find peace in life and death. A sanctuary for exploring self. Essentially a monastery without monks or religion. The sooner I find it, the sooner we can plant the vinyards.
I will know when I find it. That is certain.
I may never find it on this wheel.
Reaching Winlock brought me to the descent. The 8 miles from there to road 207, just east of Service Creek is consistently steep enough to be thrilling. My last moment of moment on Sprayquest.
Or so I thought. More on that in Sprayquest 7.
Alder Creek Road hugs the creek in a tight canyon. Sometimes I do not understand why land gets developed. I have never understood how people can live in shade. Three miles south of Winlock the canyon closes in narrow enough that in winter the bottom must not get much direct sunlight. Just days since the summer solstice there was still a lot of shade at mid-day. In spite of this a few little homesteads dotted the ride until the landscape opened up again as I neared the John Day confluence.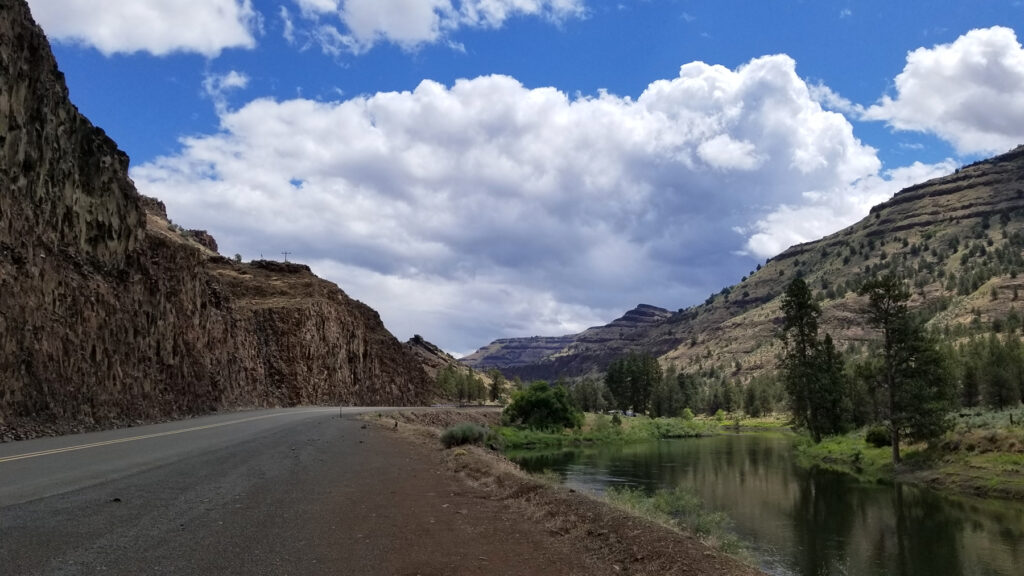 Back on 207 now I rode east to Spray and up the hill for the last time on this trip. As I passed the spot where I had my observation of the RV days earlier I felt eternally grateful once again for my life, and again in these efforts of day 5 I felt a surge of energy that would carry me the last 10 miles without fatigue. Each revolution of my spindle building a positive connection between brain and bike. I was stronger than I was on day one.
I arrived at camp with a coin toss. I texted my wife to see if she and my daughter wanted to meet me in Bend for the Spearhead concert. If the answer was no, or came too late I would be happy to ride one more day out here. I had several more possibilities for the last 50 miles. Actually, because I had picked up a few stray miles over the days I only needed 42 to complete my 300, and two full days to do it in. It was also clear to me that I did not need to finish my goal here. Home would be fine.
That is a lesson I learned in architecture school. When possible always take a project to 80% completion as early as you can. If you have more time to complete the last 20%, then you will process the criticism with a relaxed mind.
Spearhead only comes through once a year, and I don't manage to see them every time they get through Oregon. The morning radio announcement was the first I heard of the show. Spontaneous. My wife did text back quickly and bought the tickets and a motel room at LOGE Bend.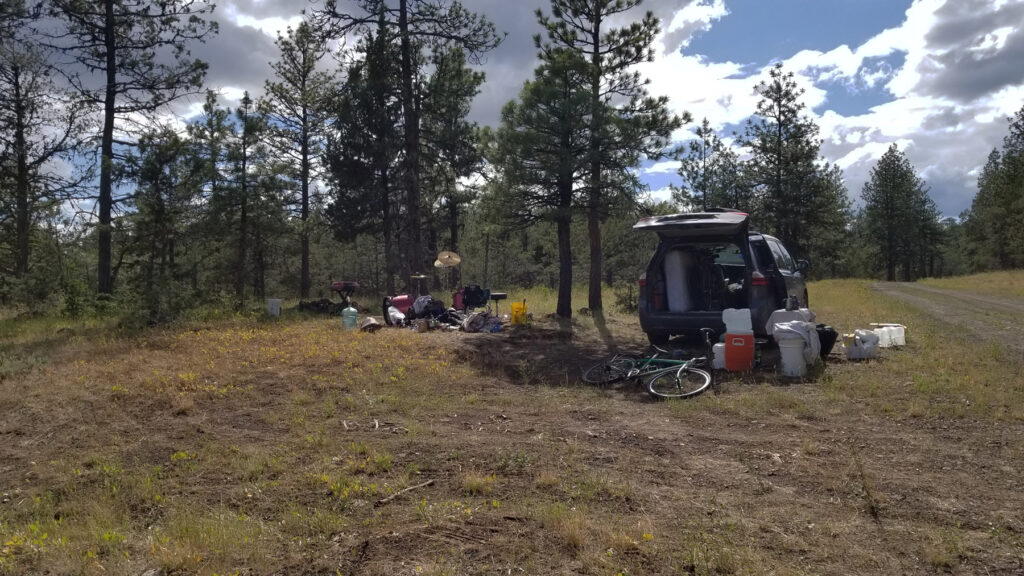 I had four hours to pack and drive back to civilization before the show started. It took five because the van was full-full. Careful to pack. I missed Ziggy Marley and the Melody Makers, which was a bummer because I have not seen them since 1990, but hopefully not my last opportunity to do so.
On my way off the mountain I stopped at the Fairview campground spring to collect 45 gallons of water. This I used to make coffee and tea and rice for quite a while after returning to Klamath. Good water is hard to find.
It rained most of the way to Bend. From Prineville forward I could see the Cascades enveloped in dense storm clouds. The thermometer in my car said it was 46 degrees outside. It must have been snowing at Mt. Bachelor that evening. In Bend it was just very cold for almost being July.
At the venue I found my wife and daughter. Cold. I knew they would be so I had brought my down parka and we took turns warming up in it.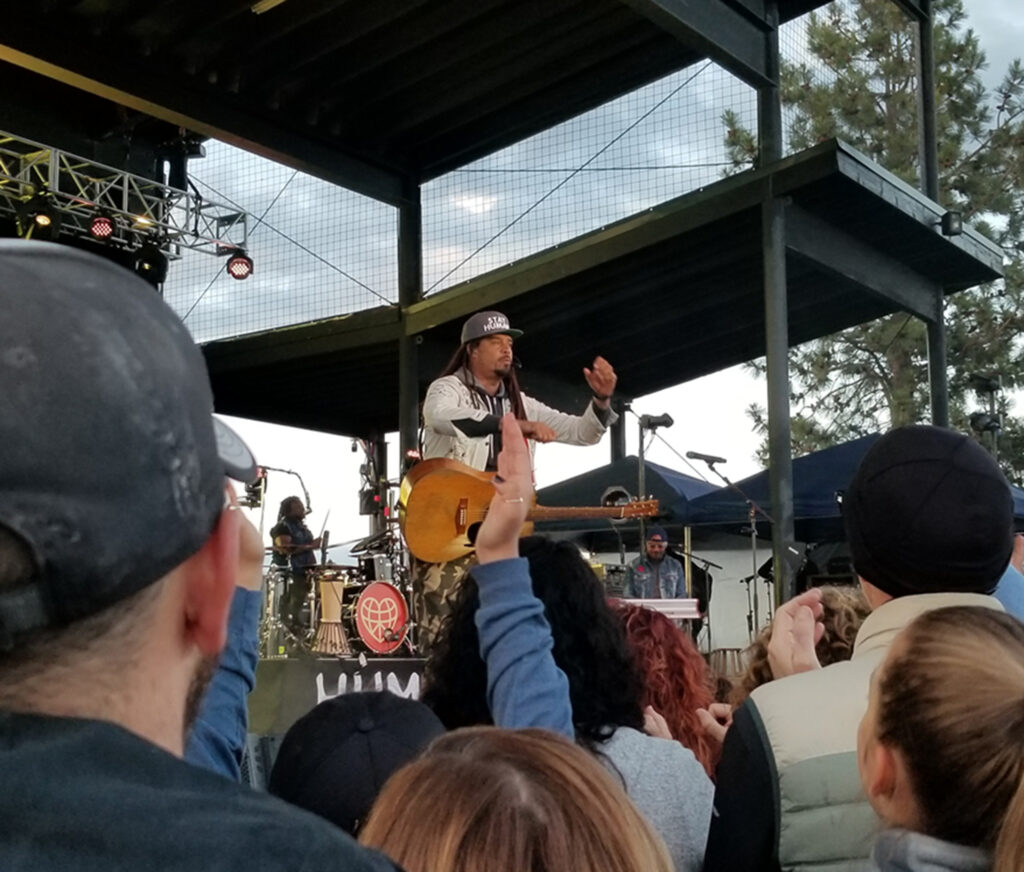 Always a good show.
In the morning my wife and daughter did a bit of shopping and I continued home to rest and unpack. That evening I picked up 12 more miles in my beloved Moore Park. It was one of the finest rides of my year so far in our local wilderness. I was strong, the air was great, and the trails more relaxing. Summer arrived.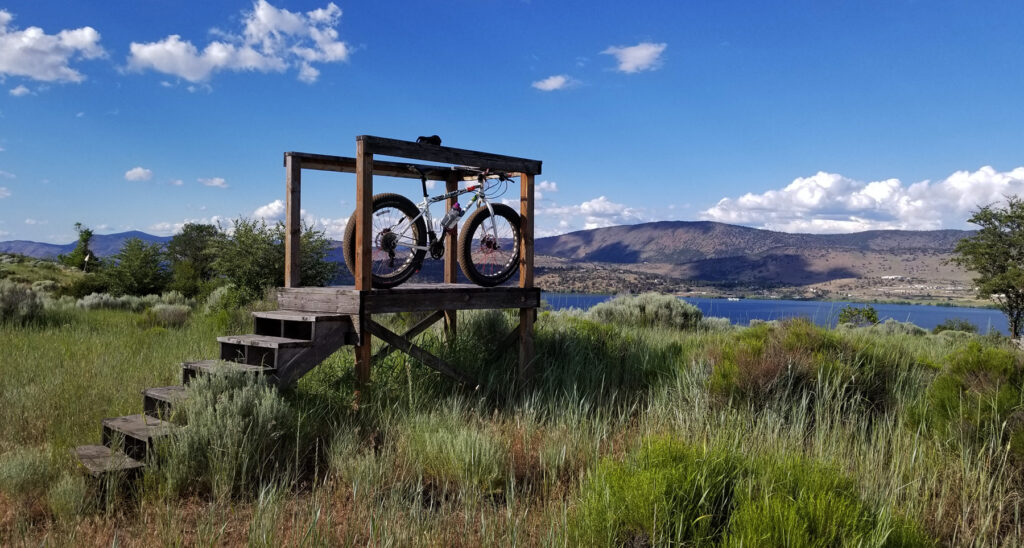 At home I planned the last ride of Sprayquest for the next day. A thirty mile loop in the forest west of Keno. Sleep came soon enough.